Architecture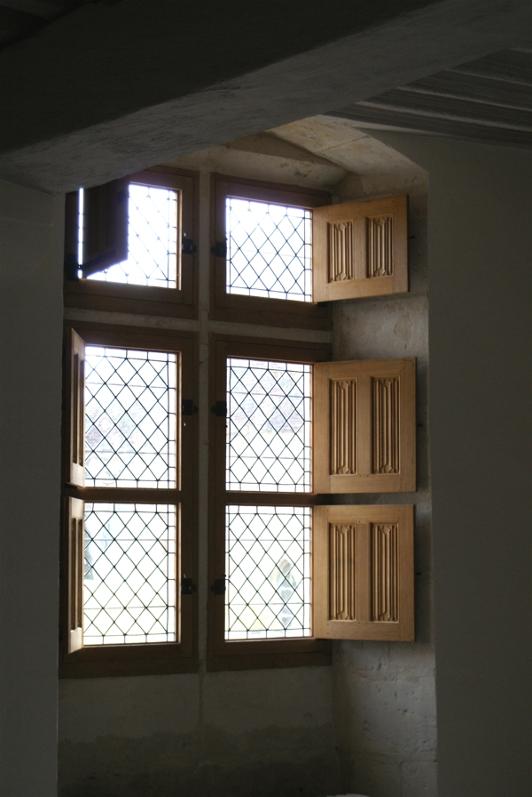 Peak

When the British occupation ends, a prosperous period (1450-1550) leads to the construction of 700 manors in Le Perche. In the sixteenth century, the size of the buildings matches with the parcelling of the farmland. The local workforce - often the servants - work under the supervision of a master mason.
Soisay is erected around 1530.
Location and type of construction
The mansion is the seat of farming activities. The buildings are non defensive, often situated on a hillside near springs and farmland. Towers, turrets and bretèches recall the medieval ancestors and are worth symbolic.
Foundations are reduced (rarely caves) and performed by speckled sandstone blocks (volcanic stone) also used in quoins. The fruit* is practiced to lay the walls. Sand and ocher limestone are extracted from local quarries, clay and iron are transformed by nearby artisans (many forges).
In this wooded area, chestnut and oak framings are well crafted.
Outbuildings
Besides the buildings related to the farm (barns, cowsheds, stables, pigsty...) which form the low court, others were linked to the privileges granted to the owners:
- the chapel
- the pigeon loft to supply the table, the number of holes putlogs is related to the farmland owned (525 putlogs in Soisay)
- wheat, cloth and paper mills.
Buildings for the use of the master form the high court.
In Soisay, the court precincts** girded the chapel, dovecote, bakery and master's home.
Evolution
In the seventeenth century, extension of the averaged farmland (+300% in 100 years) leads to the abandonment of the old houses, left to the tenant farmers (after 1640 in Soisay). In the nineteenth century, notables form Mamers own Soisay. The estate was sold in 1930 to a farmer who exploited the land.
*The fruit : thickness reduction to a wall
**The precincts : wall or area enclosed by a wall belonging to a lord, a congregation